The time Steve Jobs pulled the first MacBook Air out of a manilla-colored envelope went down in history as one of those signature Apple moments. The original MacBook Air was only 19.3mm (0.76in) at its thickest point. It was something unheard of for any laptop, let alone an Apple laptop. Here we are about 12 years later, and the latest MacBook Air is turning heads again. However, this time around it's not because of its thickness (although at 16.1mm the latest model is thinner than the original) but because it doesn't use an x86 processor from Intel (or AMD). It showcases Apple's processor design based on the Arm Instruction Set (ISA) Architecture.
This is a bold move on Apple's part at a time when laptops in the Windows / Intel (and AMD) space are getting more powerful and offering longer battery life. Additionally, other devices such as tablets, including Apple's range of iPads, often cross into laptop territory.
But does the new M1 processor offer enough to make people think about an Intel or AMD-based laptop, running Windows or macOS? Let's find out.
In the box
Apple MacBook Air (M1) comes in a rectangular box with the laptop, power supply, USB cable, Apple stickers and a user manual inside.
Apple MacBook Air (M1)
Usb cable
Power supply
Apple stickers
User manual
Design
The physical design of the MacBook Air (M1) is exactly the same as the MacBook Air Retina model that was updated earlier this year. The dimensions and weight of both models are identical and, even when seated side by side, it is impossible to tell them apart. You'll probably have to wait until next year if you were hoping to get a redesigned MacBook Air. I personally have no problems with this. I think the current design is functional and elegant, and more than serves its purpose.
Apple Silicon M1
The new M1 replaces the Intel Core i3, i5 or i7 of its predecessor. In the cheapest MacBook Air (as tested) it has an eight-core processor (CPU) and a seven-core graphics processor (GPU), with 8 GB of RAM and 256 GB of storage, but a GPU option is available at eight cores.
The M1 has four high-performance CPU cores that handle demanding things like crunching data and editing photos, while four high-efficiency CPU cores handle light tasks like sending emails. All eight cores can run simultaneously for maximum performance, but the chip is designed to be as energy efficient as possible.
The M1 is also the first desktop chip to be made on a 5nm scale, with the majority being made on a 10 or 14nm scale. The smaller the scale, the more energy efficient it can be.
Together, it creates unique performance and a leap in battery life. The M1 is faster than any other laptop chip, rivals the most powerful desktop chips, while being very energy efficient.
The cheapest and lowest-powered Apple laptop can now do things previously reserved only for large, high-performance machines with a battery life of several business days to boot. If you want to edit multiple 4K streams of video or other intensive tasks, the Air will now do it.
Gaming
Apple Silicon M1 Macs deliver truly impressive performance in a variety of workflows. Gaming isn't necessarily a strong point for macOS yet either, the custom M1 SoC certainly brings improvements to deliver a solid enough experience for some titles, and through the lens of Apple's entry-level notebooks, surprisingly good too.
Editing
In previous years, the MacBook Air was a scaled-down version of the MacBook that was a great thin and light laptop for everyday use, but due to its low specs it wasn't really suitable for intensive creative workloads like video editing. very high definition or rendering of complex 3D animated scenes. However, this latest version comes with the same M1 chip found in the new 13-inch MacBook Pro (M1, 2020), which means that for the first time the MacBook Air can pretty much compete with the more expensive laptop.
Keyboard and touchpad
The keyboard layout, touchpad, and palm rest area are also the same as on the Intel model. You get cutouts for the stereo speakers on both sides of the keyboard, and Dolby Atmos enhancement is supported. The glass-coated Force Touch touchpad works as brilliantly as ever and the scissor mechanism keys are comfortable to type.
However, some changes have been made to the keys themselves. The 'fn' button in the lower left corner has a new globe icon and now brings up the emoji menu with a single press. The function keys F4, F5 and F6 now act as shortcuts for Spotlight Search, Dictation and Do Not Disturb, instead of adjusting the brightness of the keyboard and Launchpad backlight as in the previous model. I personally miss the brightness adjustment, but that's only because I like having its level set just like that. However, the automatic adjustment works well and you can add a shortcut for it to the menu bar if you need it.
Sound
Turning the music on loud I noticed how the MacBook Air's stereo speakers get loud enough to fill my rather large living room with sweet sound. Synthesizers and guitar riffs sounded accurate, vocals came out clearly, and the speakers have a fairly wide soundstage, giving a somewhat immersive feel.
The M1 MacBook Air has the same basic audio setup as the latest Intel-based generation, including Dolby Atmos playback. I'm not an audiophile, but as far as laptop speakers are concerned, they work well considering their size. You will be able to understand the sound and enjoy the music clearly as long as you are not in a noisy environment. I appreciate that the sound doesn't distort even at the highest volume, a weak point of many smaller speakers. The three-microphone array works well and is a good feature for video calling too.
If you want more than just built-in speakers, you can upgrade your audio using the 3.5mm headphone jack. Or you can use one of the Thunderbolt / USB ports, probably with a dock that includes audio options for analog and digital (S / PDIF).
Webcam
I wanted Apple to provide its MacBooks with a higher resolution camera, but they found another way to improve the MacBook for the Zoom era. The M1 chip is equipped with an image signal processor that makes you look better in a couple of ways.
I've put the new MacBook Air's webcam face-to-face with the early 2020 Intel-based MacBook Pro, with both joining the same Google Meet call. My boss, looking at two of me at the same time, noticed that the M1-based MacBook Air video offered better colors, including skin tones, and an overall brighter image. Other calls I've made on the MacBook Air, where we didn't have a live comparison, didn't wow anyone with the quality of the video, which proves that a better webcam would still be welcome.
Ports
The M1 MacBook Air has 2 Thunderbolt 3 USB 4 ports, just like its Intel-based predecessor, plus a headphone jack on the side (which please Apple never removes). While its USB-C ports are both located on the left side, the XPS 13 splits them between the left and right side, making it easier to connect devices to your right.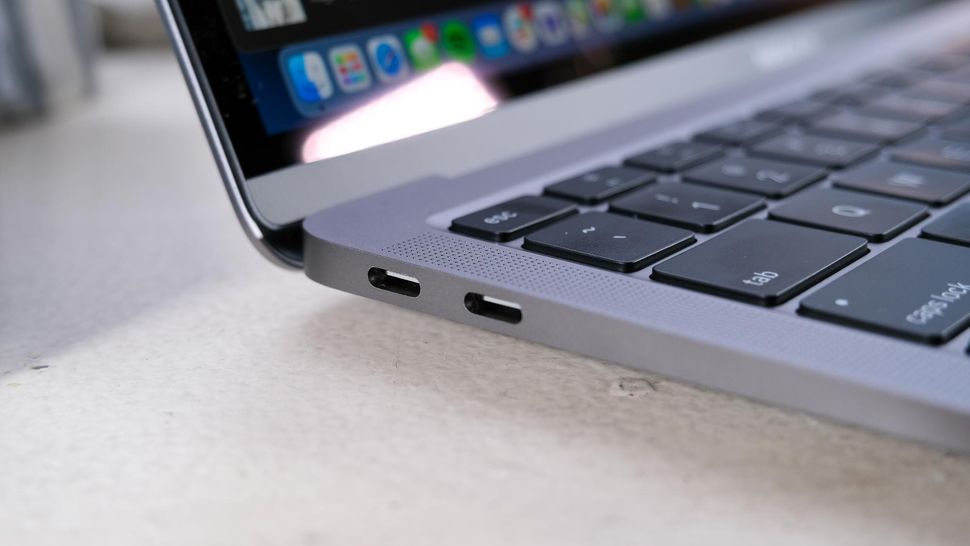 Other laptops simply offer more ports. The XPS 13 also has a microSD reader, which the MacBook Air doesn't have. The ZenBook 13 has a full HDMI output and a USB-A port, but not a headphone jack.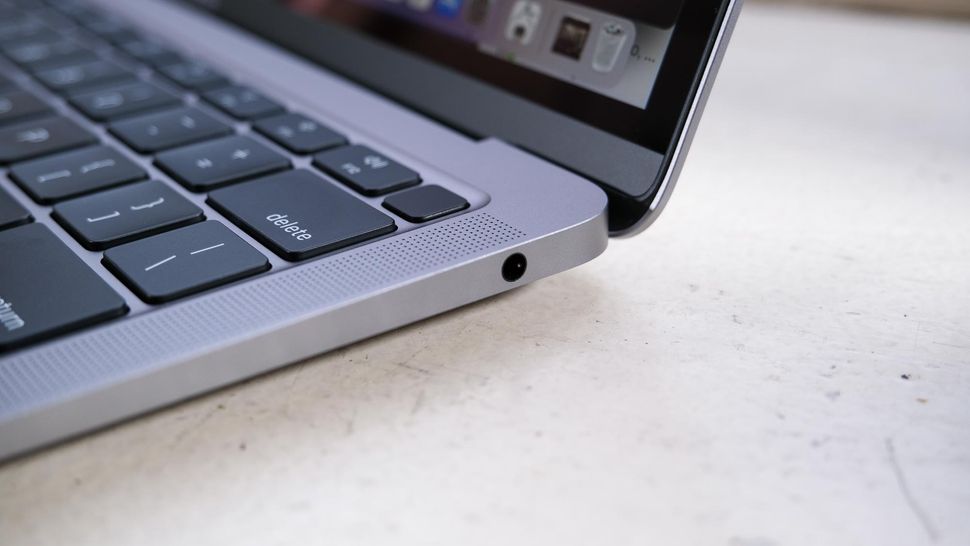 Additionally, the ZenBook is also designed for long life, having passed multiple MIL-STD 810G certifications (including extreme temperatures and altitudes, drops, shocks and vibrations).
Battery
Believe the hype. If you want a laptop where you don't have to worry much about battery life, this is it. Use it for a couple of hours and drop it about 10%, shut it in standby, pick it up tomorrow at the same battery level and use it again … maybe charge it once a week.
It's just one less thing to think about, especially if most of your usage is normal casual browsing and light app use.
The most intense battery drain we managed was playing, unsurprisingly, taxing everything to the max. This reduced the battery by around 24% per hour, which still gives it four seconds of battery life, far beyond what thicker gaming laptops (or whatever) handle while gaming. In fact, that's more than double what we'd expect from an Intel equivalent laptop.
Outside of games, the most we pushed on battery was downloading huge files at average speeds of 7.5MB / s, with the screen left on at maximum brightness. This has wireless technology on, the processor running to allot that new data, and the screen is always a big power consumer.
And that still only drained 10% per hour. This was the worst case scenario we found for standard use beyond games. Otherwise, Apple's claims of 15 hours of use seem totally in line with our experience.
Rosetta 2
Rosetta 2 is a completely different proposition. It's much, much more efficient, and thanks to the speed of the M1 chip itself, it can quickly recompile an x86-optimized app into ARM-compatible code almost instantly; it does this at the time of app loading and can make further optimizations while the app is running if it needs to take action.
I had pretty low expectations, but Apple's description of Rosetta 2 as "mostly transparent" holds up. You install it once the first time you run an x86 app, and thereafter, there's really no way of knowing it's running unless the app in question is working fine. And most of them work perfectly.
Rosetta 2 is so good that, most of the time, you won't even know it's there
With the exception of Chrome, which I didn't want to inflict on this MacBook Air due to its paltry 8GB of RAM, I recreated my setup exactly as you see above and everything works. It's not as simple as I'd like: some apps, like Microsoft's Office 365 suite, won't install, nor will many of my Mac-optimized Steam games, but the vast majority run without an apparent performance impact. Memory-intensive apps like Lightroom Classic also work beautifully in Rosetta 2 and are hampered far more by the 8GB of RAM than the emulation level.
Big Sur
The latest version of macOS is called Big Sur. With the change to Apple Silicon, the version number went from 10 (from OS X days) to 11. While preparing for this review, Apple released an update. It's just one of many I guess. Apple has a good track record of fixing bugs and closing security holes on a regular basis.
The company has made many cosmetic changes to macOS with Big Sur. This includes things like the floating dock which is now more translucent and has been raised slightly from the bottom of the display. Along with new icons, sounds and window dressing: literal window dressing. Apple has optimized the window design to make it lighter and more spacious in appearance.
There are other additions such as the Control Center. It has made its way from the iPhone to the Mac and is actually quite useful. Safari has also been updated. According to Apple, it is the "biggest Safari update since its original launch in 2003". I guess with the move to Apple Silicon the Cupertino company wanted to make sure Safari was fast, so they ripped and reassembled it for a better overall experience.
The Messages app has been updated to align more closely with iOS 14. You can pin conversations at the beginning of threads and add effects to messages like confetti or balloons. Creating and sending Memoji is now also possible on Mac. Group messaging has been updated with the ability to reply in a thread. You can also set up notifications so that you only receive alerts when someone mentions you by name.
As mentioned above, you can now use the iPhone and iPad apps. You'll find them in the Mac App Store, but you need to click on the new iPhone and iPad Apps tab. Not all applications are available, however, as some apps require iPhone-specific hardware such as accelerometers or GPS. Additionally, developers can choose not to allow their apps to run on the Mac if they already have a specific version for Mac.
Touch ID
A Touch ID fingerprint sensor can be used in place of a password to unlock your Mac, make purchases and more, with Touch ID protected by the Secure Enclave.
Final Thoughts
The MacBook Air (M1) is the ideal portable PC for most people, because it does the thing that all great computers should do.
It's so fast it will never slow you down. It will practically always have a charge. The MacBook Air (M1) does not get loud or overheats excessively. It is comfortable and light.
There are reasons why people might not want to choose this: The limited range of ports or macOS is not right for your apps, or fears that specialized software won't work with the new chip, but for the average computer buyer, this machine is just wonderful, and it's good value for money.
And while it's not part of the machine specs, it's always worth noting that Apple is one of the very few companies you can buy from where you can go straight to a company's shop for repairs, which is always peace of mind.
Click here if you want to read more reviews on many products.
Thanks for reading the whole article. If you found it useful, share it on your social networks and let me know your opinion in the comments because your opinion is really important to me.
Follow me Facebook, Twitter, Instagram e Pinterest to stay up to date on future articles.
manuelcaserotti.com is supported by its audience. When you shop via links on our site, we may earn an affiliate commission.
Does this site help you save time or money? Thanks with a small donation and if you want to have reasons why you should donate, I invite you to read here.